Rescue Team is ready for winter – are you?
Buxton Mountain Rescue Team has just invested over £2,500 getting its three response vehicles ready for winter. In recent years call-outs in severe snow conditions have increased, prompting the team to equip each of its three response vehicles with winter tyres. The tyres for the team's two Transit vehicles were supplied by GK Ford of Chesterfield whilst local dealer, Steve's Tyres of Dale Road, Buxton, supplied the rugged terrain tyres for the team's Land Rover.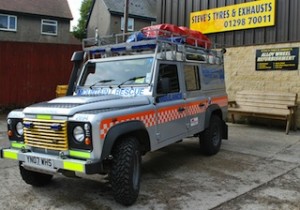 Team Chairman, Roger Bennett, said:
The teams trustees decided that ensuring our vehicles are safe and able to cope with all conditions is essential. A generous private donation made the investment possible and we consider the money well spent. Keeping our members safe is a priority whatever the price but the support of local dealers has kept the costs as low as possible and we send a big thank you to them.
As the rescue team prepares for winter it raises the question about whether hill-goers are ready. The wet summer and continuing poor weather means that the high moors of Kinder Scout are sodden and deep muddy peat bogs are becoming a real hazard. Three team call-outs in September reflected the conditions with walkers becoming exhausted and stranded as darkness fell. Roger said "If these people had been better prepared then at least two of the call-outs could have been avoided."
The mountain rescue team urges everyone who ventures on to the high moors at this time of year to carry some basic equipment:
– good quality boots
– warm and waterproof clothing (with spares)
– a map and compass (yes, STILL)
– a torch and whistle
are obvious essentials for every walk. Electronic navigation gadgets are fine if you are well practiced in their use and understand their limitations. However, all these aids will encourage you to walk in a straight line and, with the current sodden state of the moor, it is impossible to walk more than a few paces without having to turn to avoid a bog. In winter good old fashioned navigation skills are needed more than ever if a walker is not to become totally confused.
Consider and plan the route to be walked very carefully. In the current conditions walking is much more tiring than usual and the time required is considerably more. It is for this reason that walkers are overtaken by darkness and the high moors suddenly become a very scary place on a windy, cold, black night when the mist closes in. Getting cold is one matter and getting wet is another, but if you get cold and wet, then hypothermia will set in and if unrecognised, can kill. If you call for help from the middle of the moor it is likely to take at least two hours before anyone reaches you. So be prepared for the unexpected and carry spare clothing and energy foods.
If you do get into trouble then having spent just a little extra cash can make the wait for rescue much more comfortable. A few pounds will buy an emergency shelter tent that is light to carry, requires no poles but which will keep the cold wind out and quickly provide a warm environment in which to huddle. The warmth radiating from a group of people in a shelter tent may be spotted by a thermal imaging camera in a rescue helicopter. The falling temperature radiating from a cooling exposed body is far more difficult to spot! A torch and a whistle to signal with are also absolute essentials. A rescue team will search the black moors on foot and with dogs. A torch light or the sound of a whistle can save hours of searching and will increase the chances of being found.
As autumn falls and the days get shorter the risk of being caught in the dark increases. The end of British Summertime on the 28th October usually triggers several call-outs for the local rescue teams. Often the casualties are unharmed and sometimes even know exactly where they are. They just can't see the way off the hill because they didn't think they would need a torch.
Anyone getting into trouble on the hills should remain calm and try to calculate their position using the map and local features. If possible, attempt to get off the moor, but never follow rivers which may lead over steep waterfalls. If you need to call for assistance and have a mobile phone signal (not available on many parts of the moors), dial 999 and ask for the Police. State your problem and ask for mountain rescue assistance. Stay in the same position until someone from mountain rescue rings you back. Calling 999 does not automatically trigger a rescue team call-out and it may be that the team contact will be able to advise you of a route down. If advised that a rescue team will be called out to commence a search, you must stay still. A moving target is much harder for the rescue teams to locate. Use all your emergency equipment to stay warm and dry. Shine your torch and start blowing that whistle. Keep your mobile phone switched on and maintain a signal but try to conserve the battery.
A typical search of a moor such as Kinder Scout may involve up to fifty people. All those people will be volunteers and you will take them away from their families for between two to four hours even if all goes well. They willingly turn out to help people in genuine distress but do get a little frustrated when they know better preparation and planning could have avoided the incident developing.
The hills and dales of the Peak District are there to be enjoyed but they should be treated with respect. A little more thought before setting out can save a deal of distress later. The rescue team is ready for winter. Are You?