20p no date bonus?
Each year the team's network of counter-top collection boxes grows and, despite the apparent economic gloom, income from the boxes steadily increases.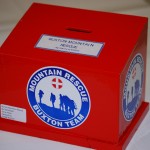 The downside of collection boxes (not that we're complaining really) is that all the donations are in small change, mostly copper, which means counting the thousands of coins is a real time-consuming task.  Fortunately one volunteer, Fiona, an operational member living in Macclesfield who is worth her weight in pennies, meticulously sorts, counts and bags the cash ready for banking.  The team expects to raise nearly £4,000 this year from the box network so counting so many small coins accurately takes patience and concentration.  Luckily husband Ken lends a hand and it was his eagle eyes which spotted a 20 pence piece with no date on it.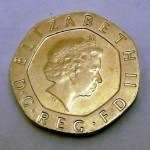 Fiona and Ken had been aware of the rare Royal Mint oddities for some time and had been keeping a special look out but spotting one coin from so many was truly remarkable.   Which collection box I hear you ask?  Well, so as not to rub salt into the wounds of anyone who thinks they may mistakenly dropped the coin in the box, the best we will say it was from a shop in Buxton town centre.
The coin is now being safely looked after by the bank but kept well away from any other coins to save an embarrasing mix up (we hope).  The Charity Trustees at their regular meeting in September will decide what to with it.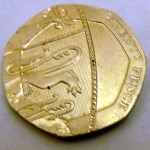 What is it worth?  How do we sell it? 
We don't yet know – perhaps you can help?  If you have any interest in coin collecting and can offer advice we would like to hear from you.
Make a comment on this article or, for confidentiality, contact treasurer@buxtonmrt.org.uk