2011 is off the ground
Fifteen members of Buxton Mountain Rescue Team visited RAF Leconfield on Yorkshire's east coast for training with the Search and Rescue Sea King helicopters.
Visiting the RAF base was of great benefit as it gave the team ample time to inspect the machines whilst they were in the hanger, protected from the weather.  Training normally takes place on exercise in the Peak District but the adrenaline, noise and being under the strict direction of the aircrew does not give the best introduction to such a fascinating machine.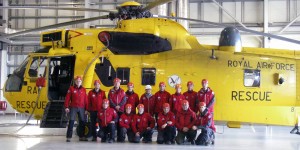 Team members also got an an insight into the processes involved, and timescale for scrambling a Sea King together for a task.  When you add this onto the 45mins it takes to fly to the Peak District, it gives an understanding of how soon into a callout the team should be thinking about asking for air support.
At 13-00 hrs the scheduled exercise flights began. Having split up into three groups, members were winched either into or out of the helicopter and then flown around the local countryside, experiencing a few sharp turns on the ride. Just before landing the aircraft would do a flypast for those on the ground and pull an extremely sharp turn to demonstrate the Sea King's manoeuvrability and its g-forces – this causes so much vibration you think it's going to fall apart!
Overall it was a great team building opportunity where team members got to know the air crew, and vice versa.  Definitely a day well spent.
Buxton MRT sends thanks to E Flight, 202 squadron at RAF Leconfield for an informative and fun day.