Grindsbrook Clough, Edale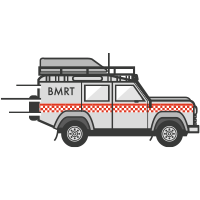 Call out for year:

21

Date:

26/02/19

Time:

11:27 am

Grid ref:

SK 11843 88369

Type of incident:

Walker

Injured(1)

Team members involved:

13

Time taken:

5 hours

Total man hours:

58 hours
Incident report
At 11.27 am both Edale Mountain Rescue Team and Buxton Mountain Rescue Teams were contacted by Derbyshire Constabulary after a call for help from two walkers in the Grindsbrook area. Team members were alerted and response vehicles headed to RV at the Edale railway station.
Team members were then dispatched to head up Grindsbrook Clough to meet the informant, who guided team members to the casualty, who was sitting by the stream under Halfway rocks.
The lady was from the USA and was enjoying a walk in the spring-like weather above Edale before heading home later in the week. Unfortunately whilst crossing the stream she slipped which resulted in a severe fracture to the ankle. An Edale MR team doctor arrived on the scene to assess the casualty and a Buxton MR paramedic administered strong pain relief before making the casualty comfortable.
Due to the condition  of the injury, the Maritime and Coastguard rescue helicopter, Rescue 912 was requested to assist with a speedy evacuation. On arrival of the helicopter, a Maritime and Coastguard Agency paramedic was winched down to the site. After further assessment, the casualty was transferred onto the helicopter's stretcher. Then, with the aid of a hi-line, to steady the stetcher and winchman, the casualty was lifted into the Sikorsky S-92 and flown to the Sheffield Northern General.
We'd like to thank all team members and team members' employers who gave up their time to help the casualty, during the working day. We'd also like to extend our appreciation to all the walkers who waited patiently whilst the rescue was being executed, and to the helicopter crew for providing a quick evacuation.
The teams would like to wish the casualty a speedy recovery.