Winnats Pass, Castleton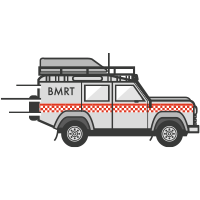 Call out for year:

12

Date:

11/01/10

Time:

7:45 am

Grid ref:

SK 132 828

Type of incident:

Non mountain (Police)

(not enough fingers !)

Team members involved:

3

Time taken:

2 hours

Total man hours:

6 hours
Incident report
More stranded motorists!  This time a vehicle was reported to be stuck fast 300 metres down Winnats Pass, and the driver without proper clothing.
Three team members responded in the team Land Rover and made their way from the Wanted Inn towards the head of Winnats.  Despite ploughing, the road was still appalling with deep drifts built up by the wind. Before arriving at Winnats Pass other motorists had to be assisted and turned back.  On arrival in the Pass the team found that the original stranded vehicle had been extracted by a farmer and his tractor, but inevitably, other vehicles were soon stuck and the Pass soon resembled a car park.  Only by reversing all the way back downhill to Speedwell Cavern were vehicles able to make their escape.
Team members returned to base and vowed to unplug the phone!