Winnats Pass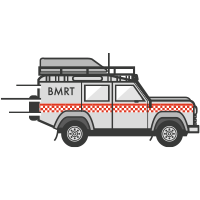 Call out for year:

21

Date:

10/05/12

Time:

3:56 pm

Grid ref:

SK135 825

Type of incident:

Walker

Injured(1)

Team members involved:

Time taken:

1 hr

Total man hours:
Incident report
A Buxton and Edale snatch squad was called to Speedwell Cavern, Castleton.
A 12 year old boy from Salford, part of a larger group of young people and a leader, were on the steep sided Winnats Pass when he sustained a suspected fracture/dislocation of his ankle.
Team members located the group about 130 feet up the very steep, wet, slippery slope of the pass. The ambulance service paramedics treated the casualty on site. Meanwhile, the other youngsters in the group were becoming increasingly anxious and restless. It was raining heavily, the hillside was becoming increasingly slippery, loose rocks were being dislodged and flying down the hillside when the young people moved.
A senior team member went up to the incident site and calmed the group down and began to escort them down the hillside, one at a time to the roadside. As further personnel arrived this process continued until they were all down and safe.
The casualty was loaded onto a mountain rescue stretcher, initially carried further uphill to avoid the loose rocks. The stretcher was then sledged and lowered using back ropes as support to the roadside. The casualty was transferred into the land ambulance and taken to the Stepping Hill Hospital, Stockport, for further treatment.
In all we recovered 21 people from the steep and treacherous hillside of the Winnats Pass during this incident.