Roach End, Upper Hulme, Staffs.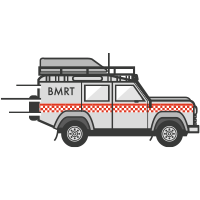 Call out for year:

64

Date:

26/12/09

Time:

2:30 am

Grid ref:

SJ 997 631

Type of incident:

Non mountain (Ambulance)

Search benighted(1 patient and 2 crew)

Team members involved:

3

Time taken:

2 hours

Total man hours:

6
Incident report
At an early hour on Boxing Day, North West Ambulance Service contacted mountain rescue to ask assistance for one its ambulances which was stuck on a remote and ice plastered road. The ambulance, had been transferring patients from Stepping Hill Hospital in Stockport to a Buxton Hospital and the last leg of its journey was to take an elderly patient to Congleton. 
The Greater Manchester based crew were unfamiliar with the route and in darkness and thick fog had been using a satnav system.  However the ambulance missed its turning for the A54 and continued on the A53 towards Leek.  The satnav system attempted to redirect the ambulance by guiding the crew through Upper Hulme towards the Roaches. 
It was on this narrow and remote country lane that the vehicle became trapped on packed snow and sheet ice in the dip between two inclines.  Concerned for the welfare of the elderly patient on board the crew radioed for help. 
Buxton team responded with its Land Rover and a two man crew.  Fortunately, despite the  freezing and foggy weather the Land Rover was able to break the icy road surface sufficiently for the ambulance to gain traction and within a short time both vehicles were back on the comparative safety of the A53.
At all times the elderly patient had been kept warm and comfortable and had little awareness of the drama.   Had it not been possible to recover the ambulance then a full team call-out would have been required to carry the patient by stretcher to a relief vehicle.