Kinder Search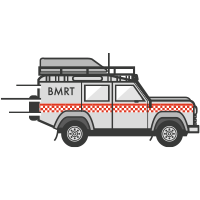 Call out for year:

4

Date:

27/01/18

Time:

4:07 pm

Grid ref:

SK 124 853

Type of incident:

Walker

Search Overdue(2)

Team members involved:

22

Time taken:

4

Total man hours:

88
Incident report
The Buxton team was called as part of the Kinder Scout search plan along with Edale, Glossop and Kinder teams when two walkers became lost in thick hill fog and strong winds on the plateau. The couple from Liverpool had set off earlier in the day from Edale, and became disorientated in the area north of Crowden Brook whilst trying to find the top of Kinder Scout.
The couple called for mountain rescue assistance after wandering around in the fog for some time and realised that daylight was running out.
Search parties rapidly ascended to the plateau via the usual ascent routes. On their route to the plateau, a Buxton search party came across another couple from Reading and Suffolk without torches who were benighted near Grindslow Knoll. They were escorted off the hill by team members and the remainder of the search party continued.
During the search, the missing couple managed to make contact with the Search Coordinator to say that they had met up with other walkers and were making their way off to Edale. Unfortunately, phone contact was lost before their intended route off could be established, so the search continued.
Twenty minutes later, the remaining search party located the missing couple near the top of Crowden Brook and, after ensuring that they were fit and well, escorted them from the hill back to Edale. The other search parties were then recalled from the hill. The helpful walkers who came across the missing couple then went on their way to the head of Grindsbrook.
Once the missing couple were safely off the hill, team members made their way back home. Back at the rescue base, the team vehicles were cleaned and made ready for the next callout.