Kinder Scout, The Woolpacks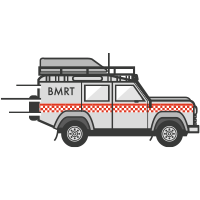 Call out for year:

10

Date:

3/03/17

Time:

12:35 pm

Grid ref:

SK 090 869

Type of incident:

Walker

Search lost (self report)(4)

Team members involved:

14

Time taken:

3 hrs 45 mins

Total man hours:

52.5 hours
Incident report
Buxton Mountain Rescue Team called following a telephone call to police from a man reporting himself lost on Kinder Scout.  The weather at the time of the report was very poor with substantial rain falling on an already sodden moor swelling streams into torrents and low cloud reducing visibility to just a few metres.  Deep snow lying in groughs and across footpaths would hamper progress.
The Duty Peak District Mountain Rescue Organisation's Incident Controller contacted the man and was able to plot his exact position by using a system which interrogates the phone's GPS facility.   Team members quickly climbed on to the moor and approached the area from two different directions.
The man was on the first day of the Pennine Way long distance footpath and was well equipped and carrying an emergency whistle.  Whist waiting for assistance to arrive another two walkers heard the man's whistle and went to his location. Unfortunately these two walkers were also lost and they waited together for help to arrive.  Then along came another lost walker so all four stayed together awaiting rescue.
On arrival at the site team members quickly assessed each casualty and then got them walking off in the correct direction before the cold really had time to penetrate.  The full party were escorted back to Edale via Jacob's Ladder
Photo credit:  BMRT.  Casualty party being escorted from the hill.  Wind, rain and lying snow making movement on Kinder Scout slow and arduous.