Kinder Scout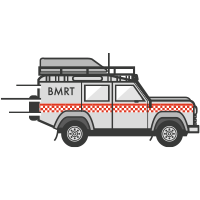 Call out for year:

49

Date:

6/08/17

Time:

10:00 pm

Grid ref:

SK 096 897

Type of incident:

Walker

Search lost (self report)(2)

Team members involved:

18

Time taken:

3

Total man hours:

54
Incident report
Buxton Mountain Rescue Team together with Edale M.R.T., Kinder M.R.T., and Glossop M.R.Teams were all called simultaneously at 10.00 p.m. on Sunday 6th of August following a 999 call to police from a man and his eleven year old son lost on Kinder Scout.
The man from, Marylands in West Sussex, had gone for a walk on the moor setting of from Edale earlier in the day when the weather was fine and warm.   However, around mid-afternoon, classic Kinder weather rolled in from the west with low cloud and heavy rain making navigation on the summit difficult and causing darkness to set in in earlier than usual.
The man and his son became disorientated and finally called for assistance when both were getting wet, cold and a little scared.  The man was unable to give any accurate clue as to his whereabouts and so the well practiced Kinder Search Plan was initiated.
Around sixty mountain rescuersfrom the four local teams together with four specialist search dogs were deployed onto the moor from all directions to sweep the tops.  Following deployment of the searchers and another call to the missing man, a potential location was identified from a translation of a mobile phone mapping system.   That, together with the description he gave of the area around him, convinced search managers that the lost pair were on the north side of the moor at Fairbrook Naze, overlooking the A57 Snake Road.
Members of Glossop M.R.T. were dispatched to the area and soon located the man and his son, cold and wet but in good spirits.  Following a swift examination the pair were escorted down the hill to the Snake and from there transported to Edale where the man had parked his car earlier in the day.