Kinder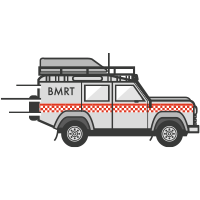 Call out for year:

21

Date:

9/04/17

Time:

7:00 pm

Grid ref:

SK 092 870

Type of incident:

Walker

Injured(1)

Team members involved:

19

Time taken:

3

Total man hours:

57
Incident report
Buxton Mountain Rescue Team was called at 7.00 pm on Sunday to assist The Kinder Mountain Rescue Team which was dealing with a walker with a reported dislocated knee.

The original position had been reported as under Kinder Downfall which sent Kinder M.R.T. scurrying off in the wrong direction.  However, following further communication with the casualty site, it became apparent that the accident had actually occurred somewhere along the plateau southern edge near to Crowden Towers.

A Search and Rescue helicopter had already been scrambled from its base in Hull and was now directed to the correct location whilst Kinder team members diverted for a hike in from Edale Cross.   Buxton MRT and a few Edale MRT members were alerted to provide support for the remaining friends of the casualty once the aircraft had lifted the injured man to a Sheffield hospital.  Darkness had now fallen as the group were escorted down to Edale where their vehicle was parked.

Photo credit:  BMRT (after a little improvement by Lesley Draper, Pure Buxton.)   The Bristow's search and rescue helicopter at the top of Crowden Brook preparing to winch the casualty for evacuation.