Harpur Hill area, Buxton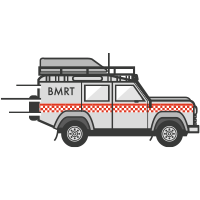 Call out for year:

41

Date:

31/07/11

Time:

12:30 pm

Grid ref:

SK058720

Type of incident:

Non mountain (Police)

Search vulnerable person()

Team members involved:

27

Time taken:

7 hrs 15 mins

Total man hours:
Incident report
Buxton Mountain Rescue Team, together with three Search and Rescue dogs were called to assist the police in locating a missing person in Buxton on Sunday.
The missing person was last seen in the early hours of Sunday morning in the Harpur Hill area. The team and dogs were tasked to search more than a mile square of open fields and woodlands to the west of Harpur Hill, adjoining Grinlow Woods. The terrain was variable, ranging from open grassland, woodlands and steep sided dales with rocky outcrops.
In one woodland area, search dog Toby, disturbed a wasps nest. Both he and his handler were attacked, the handler receiving more than thirty stings, and the dog considerably more. The dog was taken to a local vet for immediate treatment.
The missing person turned up at a friends house in Buxton in the early evening. An ambulance was called, and the missing person was taken to Stepping Hill Hospital, Stockport.
Neil Carruthers, Buxton Team Leader said " There were concerns expressed for the safety of this individual. An extensive search of the local area was undertaken by us. The missing person was later found well outside our search area. We are very grateful to Police for the support provided in enabling us to get the search dog to a vet quickly, also thanks to the Overdale Surgery."