Flash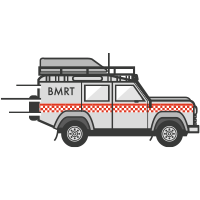 Call out for year:

7

Date:

10/02/12

Time:

3:42 pm

Grid ref:

SK024673

Type of incident:

Non mountain (Police)

Other(2)

Team members involved:

21

Time taken:

3 hrs 20 mins

Total man hours:

70 hrs 53 mins
Incident report
Staffordshire Police requested assistance in recovering an elderly female who was stranded in a car that had lost control on sheet ice along an untreated minor road.
On arrival it was clear that the road was dangerously icy: it was impossible to stand on the approach to the steep incident section and not slip, so team members had to use crampons and ice grippers to access the vehicle. Inside, there was a 96 year old female from Derby, who had been enjoying a day out with her son from London. She was evacuated on a stretcher to the village centre, where she was checked by an ambulance service paramedic and released. We transported mother and son in the team vehicle to Buxton for an onward journey back to Derby.
A team spokesperson said "The road conditions in that part of the village were very difficult. One of our own team vehicles lost control on the ice. Fortunately, no one was injured, and the vehicle escaped having had a mud flap damaged. Our thanks to the local community for their patience whilst we recovered the vehicle, and to the helpful local man for transporting road salt for us".