Colbourne Moor, Rushop Edge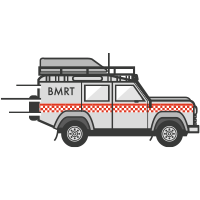 Call out for year:

56

Date:

23/09/12

Time:

2:05 pm

Grid ref:

SK095 836

Type of incident:

Walker

Other(1)

Team members involved:

20

Time taken:

2 hrs, 37 mins

Total man hours:

51 hrs, 40 mins
Incident report
Buxton Mountain Rescue was called to Rushop Edge on Sunday afternoon following a call about a bog-fast person in a group doing a Duke of Edinburgh award.
The group of five were on the final leg of their expedition from Brown Knoll and were heading for Edale, when one of them, a 17 year old female from Sutton in Ashfield, Nottinghamshire, walked into the peat bog. The group tried, together with supervisors, to release her, without success.
Contact was established with the group and it became clear that the girl had been in the bog hours. She was cold, wet, but in good spirits. When the team arrived she was stuck up to her thigh. Rescuers placed her in a rescue nappy, attached ropes and with the help of group members she was released from the bog, cold but unharmed.
A team spokesman said: This is the second incident within a week of walkers becoming stuck in peat bogs, due in some part to the amount of rain recently. This can be a very frightening experience and sometimes difficult to get out, as was experienced here. We used a rescue nappy and good old fashioned brute strength pushing and pulling and finally released her, much to everyones relief. The stuck young lady was cold and wet but otherwise unharmed by her experience.
The group were then taken to Chapel Gate to meet their parents and return home.