Burbage Rocks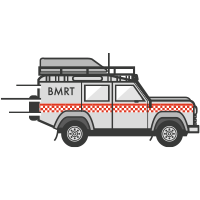 Call out for year:

44

Date:

14/08/12

Time:

4:47 pm

Grid ref:

SK268 823

Type of incident:

Climber

Crag-fast(1)

Team members involved:

7

Time taken:

3 hrs

Total man hours:

21 hrs
Incident report
A joint Buxton and Edale snatch squad was called to the climbing area of Burbage Rocks to assist with a crag-fast person.
A 16 year old female from London, part of a group participating in rock climbing and scrambling activity in the Ash Tree wall area, had slipped and was wedged in a narrow gully, 20 feet up from the base of the cliff. Rescue personnel were able to speak to the girl from above, and established that apart from cuts and grazes, she was not injured, although she was slightly struggling to breathe. They made various attempts to wiggle the girl free to little avail. However, with the combination of ropes around her waist and legs and gentle assistance, she was hauled free from above, and then carefully lowered to the bottom of the cliff.
She was assessed by MRT doctors, who confirmed no injuries apart from cuts and scratches, and she was able to walk with rescuers to the roadside.